07 Sep

Georgetown Family Dental Affiliates Win Savannah Magazines 2023 Best of Savannah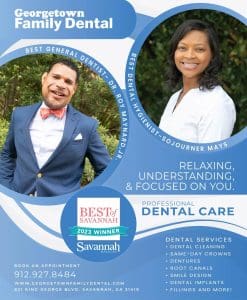 Dr. Roy Maynard Jr., DDS, of Georgetown Family Dental, was voted Best General Dentist in Savannah for the second year in a row. The practice's Sojourner Mays RDH, won the title of Best Dental Hygienist in Savannah 2023.
Georgetown Family Dental continues to rise above the competition, thanks to its unparalleled commitment to providing high-end technology, artistry, and top-notch patient care in a warm, family-focused environment. With an emphasis on building long-term relationships with patients, Georgetown Family Dental has established itself as a premier dental practice that combines advanced imaging, cutting-edge technologies, and a compassionate approach.
"We are truly honored to be voted Best of Savannah General Dentist and Hygienist this year," states Dr. Maynard. "Our practice continues to grow and thrive in Georgetown because of our dedicated staff and supporting patients. God is good and we are humbled to receive these awards!"
Dr. Maynard, following in the footsteps of his mentor, Dr. Ann Linton, brings a unique blend of passion for the arts and sciences to his practice. However, what truly sets him apart is his dedication to cultivating strong connections with patients and the community. Holding advanced degrees with honors and being an active member of over 20 professional organizations, Dr. Maynard ensures that his practice remains at the forefront of the industry through ongoing training.
One of the standout professionals at Georgetown Family Dental is dental hygienist Sojourner Mays, RDH. With an impressive 15 years of dental experience, Sojourner is renowned for her gentle bedside manner, her passion for oral health education, and her exceptional clinical skills and knowledge. She embodies the values of Georgetown Family Dental, continuously seeking ongoing education opportunities and sharing her wealth of knowledge and service with her patients.
The dedication of the Georgetown Family Dental team, combined with their commitment to utilizing the latest technology and providing personalized care, has propelled the practice to the top of the list among Savannah dental practices.
ABOUT GEORGETOWN FAMILY DENTAL
Georgetown Family Dental is a locally owned and operated dental practice by Dr. Roy Maynard, Jr, DDS since 2016. Georgetown Family Dental focuses on quality dental care for patients in Georgetown and the greater Savannah area. Georgetown Family Dental uses the latest technological advancements in dentistry to keep your teeth healthy and your smile bright in a relaxing office staffed with an awesome dental team! Today, Dr. Maynard, Dr. Kierski, Sojourner Mays, and their team continue to impact lives one smile at a time.